Classic Exports is a premier manufacturer, supplier and exporter of new generation chassis, automotive parts, automotive body parts, automotive parts warehouse, auto accessories parts, auto body parts, automotive aftermarket parts, automotive auto parts, automotive car parts, automotive replacement parts for OEM and automotive after market. An ISO 9001:2000 and TS 16949 certified company, Classic Exports supplies automotive replacement parts like Trailer & Truck Replacement Parts, Car Replacement Parts, Tractor Replacement parts to USA, UK, Canada, Southeast Asia and Europe for over 40 years.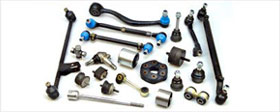 Automotive Division
The division caters to the needs of automobiles and railways.


Other Engineering Goods
This division supplies components for heavy engineering industry, defence, etc.